Get inspired
Colour A43 energetic olivine
Jak wpływa na wnętrze?
Delikatny, żółto-zielony odcień energetycznego oliwinu wprowadza do wnętrza wiosenną atmosferę. Pomaga zwalczyć codzienny stres i poczuć się zrelaksowanym. Rekomendowany do pokoi dziennych i pomieszczeń przeznaczonych dla dzieci. Świetnie wygląda w przestrzeniach w stylu eko. 
Do czego pasuje?
"Gruszkowy" odcień ścian można uzupełnić ciemniejszymi akcentami na obiciach mebli, zasłonach i poduszkach. Kolor ten znakomicie sprawdza się w pokojach, w których jest dużo roślin oraz tych z widokiem na ogród.  
Jak wpływa na oświetlenie we wnętrzu?
A43 energetyczny oliwin ma żółtawy odcień i dobrze wygląda w świetle słonecznym. Najbardziej naturalnie będzie się prezentował w pokojach o ekspozycji wschodniej i południowej. W przypadku oświetlenia sztucznego należy wybrać żarówki LED o ciepłej temperaturze barwowej (2700 K). 
Matching colors
The MAGNAT CERAMIC CARE paint is particularly recommended for interiors where contemporary people spend most of their time, such as: bedrooms, children's rooms or offices where the presence of harmful formaldehyde in the air is not acceptable. In conjunction with the fact that MAGNAT CERAMIC CARE is a product with above-average properties, it is also recommended for application in other premises such as kitchens, living rooms and corridors.
The paint is designed for decorative and protective application to cement, lime and cement, gypsum and plasterboard walls and ceilings as well as those made out of fibreglass. It may also be applied to interior wood, wood-based and metal substrates. Recommended for residential premises, healthcare buildings, educational establishments and within food storage premises (without direct contact with paint).
1 If Manufacturer's instructions as specified on the packaging are followed, then on smooth, cured substrates the paint does not absorb contaminants and 'difficult' stains such as:
- ketchup, sunflower oil, water markers, crayons, lipstick, mustard (wipe off within 1 hour),- coffee, tea, wine (remove within 15 minutes).Coarse and uneven surfaces may hamper removal of stains and especially the 'difficult' ones.
2 PN-C-81914:2002 Type I – resistant to wet scrubbing.
3 3 If Manufacturer's instructions as specified on the packaging are followed, then on smooth, cured substrates the paint establishes a durable colour resistant to intensive use particularly in public use buildings, i.e. resistant to:
touching with hands or other body parts, accidental contact between the painted substrate and various items such as jackets, briefcases; vapours (e.g. in a kitchen), contaminants, light (including UV rays), wet scrubbing and washing according to the PN-C-81913 standard (excludes washing with the use of disinfectants or cleaning agents containing chlorine or bleach).
4 The MAGNAT CERAMIC CARE innovative formula ensures a reduction of formaldehyde (even up to 98%) which might occur in the air inside premises. Building materials, furniture, floor panels, carpets or carpeting are just some of the potential sources of formaldehyde.  On the basis of laboratory tests carried out for FFIL Śnieżka SA. (for details, see product data sheet at www.magnatfarby.pl). The efficiency and effectiveness of formaldehyde reduction and the period required for it to bind as a result of applying MAGNAT CERAMIC CARE paint depend on: formaldehyde concentrations in the air, air circulation, room volume, and area of coated substrate (m2).
Przygotowanie podłoża
Podłoże przeznaczone do malowania powinno być wysezonowane, trwałe, suche, czyste, bez kurzu, zatłuszczeń i rdzy.
Powierzchnie nowe zależnie od rodzaju podłoża powinny być zagruntowane właściwym dla nich gruntem.
Ściany i sufity wyszpachlowane lub pokryte bardzo intensywnym kolorem pomalować farbą gruntującą, np. MAGNAT GRUNT.
Powłoki farb klejowych, wapiennych, łuszczące się oraz źle przyczepne do podłoża warstwy starej farby usunąć.
Dobrej jakości powłoki farb emulsyjnych umyć wodą z dodatkiem mydła malarskiego.
Nierówności oraz spękania wyrównać odpowiednią wewnętrzną masą szpachlową, np. ACRYLPUTZ® i pomalować farbą gruntującą, np. MAGNAT GRUNT.
Plamy z zacieków wodnych, nikotyny, oleju zamalować farbą, np. Śnieżka ZACIEKI PLAMY.
Podłoża luźno związane, mocno chłonne i skredowane zagruntować odpowiednim preparatem, np. ACRYLPUTZ®.
Tapety z włókna szklanego malować bezpośrednio farbą lub zastosować się do innych zaleceń ich producenta.
Nowe elementy metalowe zabezpieczyć farbą antykorozyjną. Należy pamiętać, że właściwe przygotowanie podłoża i użycie zalecanych narzędzi przyczynia się do uzyskania wysokiej wydajności farby.
Malowanie
Farbę dokładnie wymieszać, nie rozcieńczać wodą. Nie należy dodawać wapna oraz mieszać z farbami emulsyjnymi innego typu.
Nakładać dwie warstwy wałkiem MAGNAT (naturalnym, sznurkowym o długości włosia 1019 mm) lub przez natrysk hydrodynamiczny.
Nanosić starannie i równomiernie taką samą ilość farby na jednostkową powierzchnię ściany lub sufitu.
Ostatnie pociągnięcia wałkiem wykonywać w jednym kierunku. Kolejną warstwę farby nanosić po min. 2 godz.
Powłoka farby uzyskuje pełne właściwości wytrzymałościowe po 28 dniach od zakończenia prac malarskich.
Usuwanie plam i "trudnych" zabrudzeń z podłoży chropowatych, nierównych może być utrudnione.
Przy malowaniu ciemnymi kolorami poszczególne powierzchnie malować tylko jedną techniką malarską.
Przy intensywnych kolorach nie wykonywać miejscowych poprawek po wyschnięciu powłoki lecz pomalować całą ścianę.
W przypadku wysokopigmentowych kolorów może wystąpić zmiana odcienia w przypadku docisku lub namoczenia.
Prace malarskie wykonywać w temperaturze podłoża i otoczenia od +10°C do +30°C. Narzędzia umyć wodą.
Uwagi
Ze względu na ochronę środowiska nie należy wylewać resztek farby do kanalizacji i nie wyrzucać z odpadami gospodarczymi.
Przechowywać i magazynować w szczelnie zamkniętych opakowaniach.
Chronić przed mrozem i nasłonecznieniem.
Unikać zanieczyszczenia skóry i oczu. Szczegółowe informacje zawarte są na www.magnatfarby.pl.
Wyroby z różnych partii produkcyjnych wymieszać w jednym zbiorczym opakowaniu.
Wydajność produktu uzależniona jest od chłonności, rodzaju podłoża, sposobu aplikacji oraz koloru. Data ważności i nr partii na opakowaniu.
Useful products
Magnat Primer
2,5 L
zł 48.49
Buy online
Paint Tray
1 pcs
zł 3.59
Buy online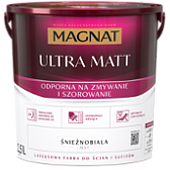 Magnat Ultra Matt white
2,5 L
zł 61.79
Buy online